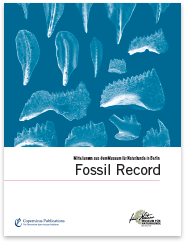 Chief editors: Carolin Haug, Christian Klug, Johannes Müller, Torsten Scheyer, Alexander Schmidt & Florian Witzmann
Fossil Record (FR) will change publisher. Our collaboration with Copernicus will end on 31 December 2021 due to a new public procurement, which had to be carried out by the Museum für Naturkunde Berlin as a public institution. We sincerely thank Copernicus for the successful and trustworthy collaboration for so many years! From 1 January 2022 onwards, Fossil Record will be published by Pensoft. The Museum für Naturkunde Berlin will remain the publishing institution. We are looking forward to a successful cooperation!
Submissions that are currently in production at Copernicus Publications will be published in Volume 24 as planned. Publications that are still in review will be finalized and, if accepted, will be redirected to Pensoft for publication. Submission to Fossil Record at Copernicus Publications will be closed on 14 December 2021. Please submit your manuscript at https://fr.pensoft.net/ from this day forward.


Notice on current restrictions
To show our support for Ukraine and in accordance with current European sanctions, we have introduced a range of measures relevant to our open-access publications process.
All fees for papers from authors (first, corresponding, or contact authors) affiliated to Ukrainian institutions are automatically waived, regardless of if these papers are co-authored by scientists affiliated to Russian and/or Belarusian institutions. The only exception to the waiver for Ukrainian authors will be if the corresponding or contact authors are from a Russian and/or Belarusian institution, in that case the APCs are not waived.
Due to restrictions for authors from Russian and Belarusian institutions that are necessary to comply with European sanctions, we recommend any authors from institutions in these countries to contact us on editorial@copernicus.org for more information.